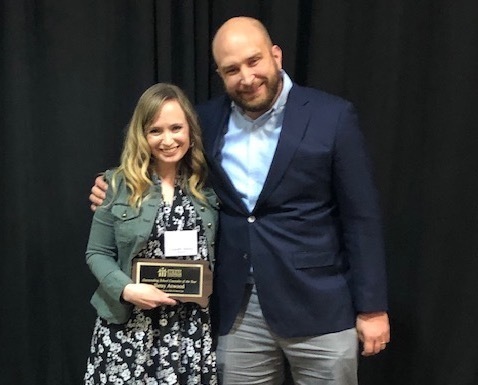 For immediate release – May 6, 2019 - Sioux Falls, SD. – The South Dakota School Counselor Association (SDSCA) recently announced their 2018-19 awards at the SDSCA Luncheon during their annual joint conference with the SD Counseling Association. The awards given are aligned with specific criteria in each category. Nominations were sought in December through April 1st. Three of the 5 awards are specific to School Counselors in the state of SD. The other 2 focus on those special people in select positions who support school counselors and their mission.
The Orv Schmieding Award is given to a school counselor who has been the profession for an extended period of time, has made specific contributions to the SDSCA organization as well is very active in their local communities igniting change. The Rising Star Award is awards to a school counselor new to the profession who demonstrates the highest of standards in professional competence, has built great rapport with students, parents and school personnel in a short amount of time and advocates well for the profession. The highest honor given to a SD school counselor is the Outstanding Professional School Counselor of the Year award. This counselor goes above and beyond the call of duty, maintains excellent professional boundaries, keeps students at the center of their comprehensive school counseling program and is highly respected by her school personnel and colleagues. These award winners are:
Orv Schmieding Award – Ronald Swier (Avon School District)
Rising Star Award – Morgan Robey (Sioux Falls Catholic School District)
Outstanding Professional School Counselor – Betsy Atwood (Harrisburg School District)
The other 2 awards are that of distinction in areas supporting the mission of South Dakota's School Counselors. The Special Contributions Awards goes to an individual or organization having made a significant contribution substantially affecting the school counseling profession. The Administrator Advocacy Award is to recognize an outstanding administrator who understands the value of school counselors in all areas of personal-social, academic and career. They work collaboratively with the school counselor on behalf of all students in their districts. These awards go to:
Special Contributions Award – Megan Tatum (SD Department of Education Career Development Specialist)
Administrator Advocacy Award – Kevin Mutchelknaus (Pierre School District)
Congratulations to the 2018-19 SDSCA Award Winners!
About the South Dakota School Counselor Association
The SD School Counselor Association (SDSCA) that promotes student success by expanding the image and influence of school counseling through leadership, advocacy, collaboration and systemic change. SDSCA helps school counselors guide their students toward academic achievement, career planning and social/emotional development to help today's students become tomorrow's productive, contributing members of society. SDSCA has a network territory chapters throughout the state. For additional information on the SD School Counselor Association, visit www.sdschoolcounselors.com