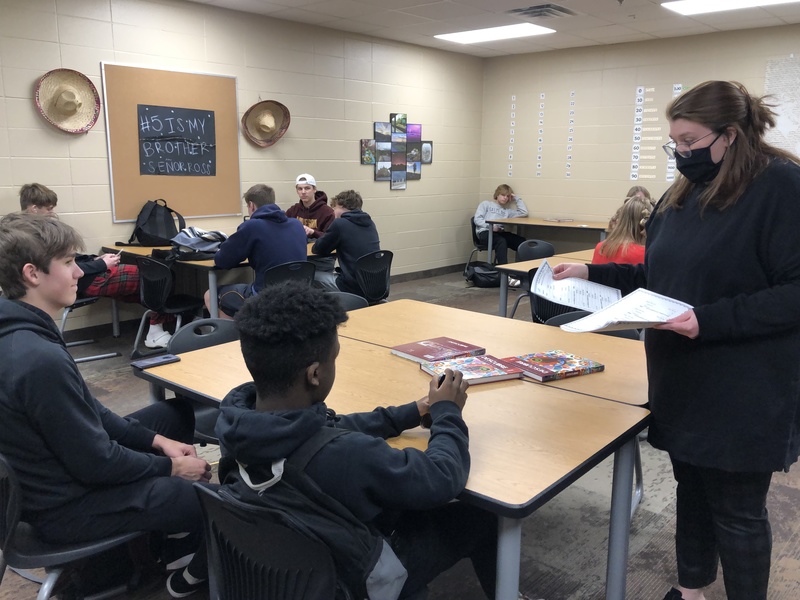 As a new addition to last year's HHS staff, Ms. Housiaux, began her journey as a Spanish teacher in the fall of 2020, and shed a light on her teaching experience during a very uncertain year. Since she entered the District during a pandemic, she stated, "I taught students in our classroom and students on Zoom simultaneously, and it was challenging to adapt lessons to be engaging both in the classroom and on Zoom, and it was equally difficult to evaluate how much students, especially those learning from home, were actually learning." Acknowledging the hardships for her co-workers and herself, she also pointed out the many triumphs and lessons learned. She mentioned her ongoing alterations to her lesson plans, to ensure her students were grasping the information thoroughly; implementing interactive activities to engage her students was of utmost importance to her as well.
After adjusting to her new environment, Ms. Housiaux mentioned, "It took a while to fit in with my colleagues partially because of COVID, but also partially because of the layout of the building and placement of classrooms... Most days, I would just see my students and that was it." This year, however, she has made sure to reach out to her colleagues, which she noted has diminished her feelings of isolation. Overall, Ms. Housiaux cherished her experience as a first-year teacher in Harrisburg.
This school year, as our daily routines have begun normalizing slightly more than last year, Ms. Housiaux touched on the various additions to her classroom. She explained, "I have added posters and signs around my room, modified and planned new activities, and am constantly looking for creative ways to keep students engaged and enjoying what they're learning." She also revealed that because of last year's restrictions on activities, she has put her focus on in-class activities and ways to get students to interact with one another. With her tensions at ease, Ms. Housiaux remains creative with her teaching approaches and aspires to flourish in her upcoming years.