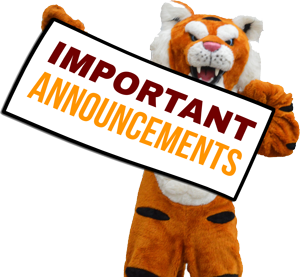 Freedom Announcements
SMS - Jen Balster
Wednesday, September 05, 2018
Important Dates:
3/26 & 3/28 - 4pm-8pm Kindergarten Assessment for Incoming Kindergarten Students
3/29 - NO SCHOOL for Junior Kindergarten & Kindergarten
4/18 - 1:30pm Early Release
4/19 & 4/22 - NO SCHOOL
*Art Club sign up for 4th and 5th graders is now open. Please register by 3/20. Flyer is on Tiger Tuesday, but the link is listed below to register:
https://docs.google.com/forms/...
Click HERE to view the flyers going home this week.
FREEDOM ART INSTAGRAM: HERE
FACEBOOK: HERE
FPTO FACEBOOK: HERE
TWITTER: HERE